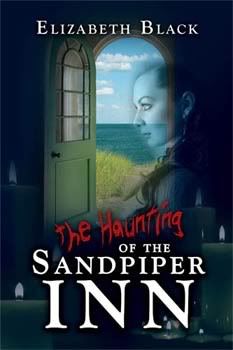 THE HAUNTING OF THE SANDPIPER INN
by Elizabeth Black
Genre: Torrid Romance Paranormal
EBook formats ISBN: 978-1-60313-620-4
Rating: Erotic Romance - Explicit
Dirk A. Wolf Honorable Mention in Category Fantasy/Sci Fi or Futuristic/Paranormal Erotic Romance —cover artist Molly Courtright
Buy Links:
Whiskey Creek Press Torrid
Amazon Kindle
Fictionwise
AllRomanceEBooks
What People Are Saying About The Haunting Of The Sandpiper Inn:
"Ms. Black writes a suspense filled, tightly-woven, and tingling tale of ghosts and murders and hauntings...oh, my! Toss into the mix a hot, wonderfully erotic romance with a self-proclaimed skeptic who is out to prove things such as ghosts don't really exist, and you have a wonderful read that kept me turning pages until the wee hours!
With delightfully wicked and funny characters like Lealand Ward, only one of the several ghosts who run amok at The Sandpiper Inn, and who loves to watch the ladies undress and enjoys copping a feel whenever his ecctoplasm is up to the task, Ms. Black weaves a wicked and tingly tale of murder, sex, and ghostly revenge with a master's hand!
Well worth the read, and well worth the 8.0 on Fran's Richter Scale!"
Fran Lee - The Examiner
Fran Lee's Book Reviews - Blogspot
More Reviews...
"This is a rather gripping read...The relationship between the characters builds up quickly, culminating in some heavy sex scenes. I did enjoy this book and felt like I was on one of those ghost investigation programmes...This book is definitely worth a read if you like hot and steamy mixed with horror and hauntings." -
You Gotta Read Reviews
"I loved this story by Ms. Black. I am a huge fan of her writing and I thoroughly enjoy her haunting storylines and characters. She developed a fun storyline that immediately pulled me in from the very first page and entertained me until the very last sentence. I felt as if I was walking along with Ellis and the GHOST team trying to debunk the hauntings that The Sandpiper Inn seemed to be experiencing. This is a great story that doesn't just have to be read at Halloween. If you love ghost stories and love to read about haunted places, this is definitely one you must add to your library. Ms. Black did a wonderful job with this story and I can't wait to read her next one. You're definitely going to enjoy this story. Don't pass this one up!" -
Diana Coyle, Night Owl Romance
, Five out of five hearts!
"THE HAUNTING OF THE SANDPIPER INN is an attention-grabbing read that is well laid out and moves along quickly. It has a great paranormal edge to it with plenty of psychic phenomenon occurring and the start of a heady relationship between Ellis and Beck. Elizabeth Black's tale makes you feel like you are part of the investigation team and I appreciated the realism of things. It is laced with a bit of humor and the steaminess it contained had me distracted just enough to almost ignore the goose bumps I got when reading through parts of the scenes. If you enjoy supernatural mysteries mixed with hot romance, then this book is for you." -
Pamela Denise, Romance Junkies
"The lively characters in The Haunting of the Sandpiper Inn are remarkably refreshing. I love the vibrant glow they bring into the story. The moment I started reading about Ellis and Beck, I wanted them to connect in so many ways. The story kept me on the edge, even giving me little goose bumps on occasion. I already love anything that has to do with the paranormal in these type stories or events, and this one is remarkably written by Elizabeth Black. Once I started it, I couldn't put the book down. The strong attraction she gives to Ellis and Beck is magnificent. I adore the way Ellis and the other GHOST investigators interacted together. This engaging read is one that left a great impression with this reader." -
Linda L. at Fallen Angel Reviews
Interview at Fallen Angel Reviews
Interview with Fang-tastic Books
Blurb:
While psychic Martha Ellis McKay may have the Gift, a skeptic's heart beats in her breast. She has seen her share of fakes, and she does not take kindly to them. Evenworse is when she is accused of being one. So imagine her chagrin when she expects to spend a quiet weekend at the Sandpiper Inn working on a book about haunted houses only to meet a ghost hunting team with its own resident skeptic, who greets Ellis with a jaundiced eye.
She has met her match in both getting to the bottom of the haunting of the Sandpiper Inn and proving to skeptic John "Beck" Becker that she is the real deal. The problem is that Beck and Ellis have more serious worries. The Sandpiper Inn holds a dark secret that threatens to destroy them both. What awaits them as they delve into the history of the Sandpiper Inn? And will their investigations bring them closer together or drive them further apart?
Excerpt:
He turned on the recorder and leaned forward, his lips brushing against Ellis's hair. Her entire body felt alert, as if she would jump at his mere touch. When his tongue found her earlobe, she gasped with excitement. He held the recorder about a foot in front of him.
"Are there any spirits in this room who would like to speak to us?"
They paused and looked at each other. Ellis shrugged her shoulders.
"Please tell us your name. Are you Lealand Chase?" Beck said.
Ellis waited for the familiar pinch on her butt, but none came, to her relief.
"I doubt Lealand Chase is here now."
"How can you be sure?"
"He hasn't pinched me or sucked on my earlobe. The man is a pest."
"Then let's lure him out." Ellis melted into Beck's embrace when his hand reached around to squeeze her breast. So, he felt playful? She liked that. She leaned against his body, wanting to feel his hands traveling over her breasts, her stomach, her hips. His lips felt warm and moist as they brushed against her throat. Was Lealand Chase the jealous type, or would he sit in the back of the room and watch? The idea of being spied on by a randy ghost made her cream her panties. She wanted Beck to ravish her again right here in his room. Fooling around sounded like fun. She could giggle in his ear as he played with her nipples. The hair on her arms stood on end. Being with Beck made her feel like a teenager all over again. Having sex and having fun was just the thing to cheer both of them up.
"Lealand Chase, you lecherous old fool, this is your chance," Beck said. He chewed on her earlobe, reducing her to giggles. He held the recorder ahead of them. "If you are here, watching us do the nasty, make yourself known."
Ellis half expected Lealand Chase to smack Beck upside the head, since she was certain he was the jealous type. She doubted he would have liked it if his wife had cheated on him as much as he had cheated on her. She liked the idea of making Chase jealous.
Beck slipped one hand beneath her bra and cupped her left breast. Her hard nipple pressed against his palm, hungry for his touch. She wanted to feel his warm, moist lips against her nipples again. She shifted her legs where she stood, feeling the heat rise in her pussy. Did they have time before GHOST came to his room, wondering where they were?
"Lealand, are you watching us?" Ellis asked, gasping for air as Beck massaged her breast. She wanted to feel his fingers on her pussy, pressing and rubbing her swollen clit until she cried out in ecstasy. As quickly as she could, she unzipped her jeans and sent them falling to the floor. Without needing to be asked, Beck's hand moved from her breast, down her belly, and into her black lace panties. She was so wet she knew she'd leave a trail.